What is Soma Analytics?
Soma Analytics is the web-based platform used by clubs, teams, and coaches to connect to their athletes who are using Soma NPT.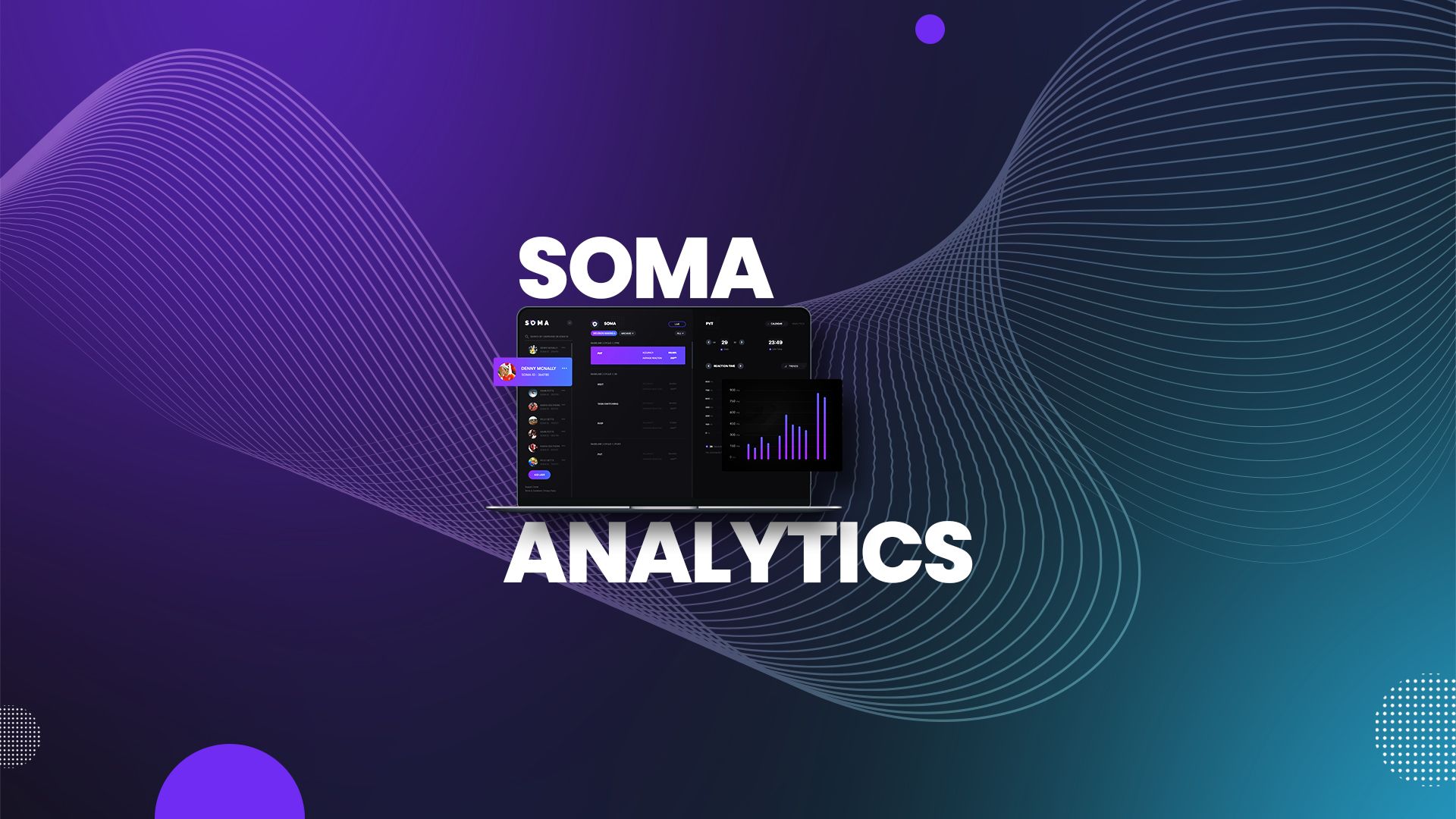 The Neural Engine.
Soma Analytics is the neural engine that links to Soma NPT and enables you to send customised cognitive training plans with a high degree of flexibility directly to an athlete's Soma ID.
The Soma Analytics neural engine provides 14 detailed cognitive and physiological measures as well as Minute on Minute (MoM) data breakdowns that enable you to monitor an athlete's cognitive and physiological breaking points. With Soma's detailed insights, you can optimize individual and team training plans to ensure the cognitive load is optimal for your athletes.
Detailed cognitive and physiological measures allow you to paint a complete picture of how an athlete is performing.
Reaction Time
Speed
Variation
Accuracy
RCS
RPE
RMF
RME
BPM
rMSSD
SDNN
VAS-F
Duration
Time
The importance of looking at more than one measure when analysing cognitive data.
🔗 Understanding your Athlete's Cognitive Data.
🔗 The Hierarchy Of Cognitive Measures
Monitor the effect of each cognitive task and the overall load of the cognitive training plan.
🔗 Should you be monitoring your athlete's physiological data with their cognitive training?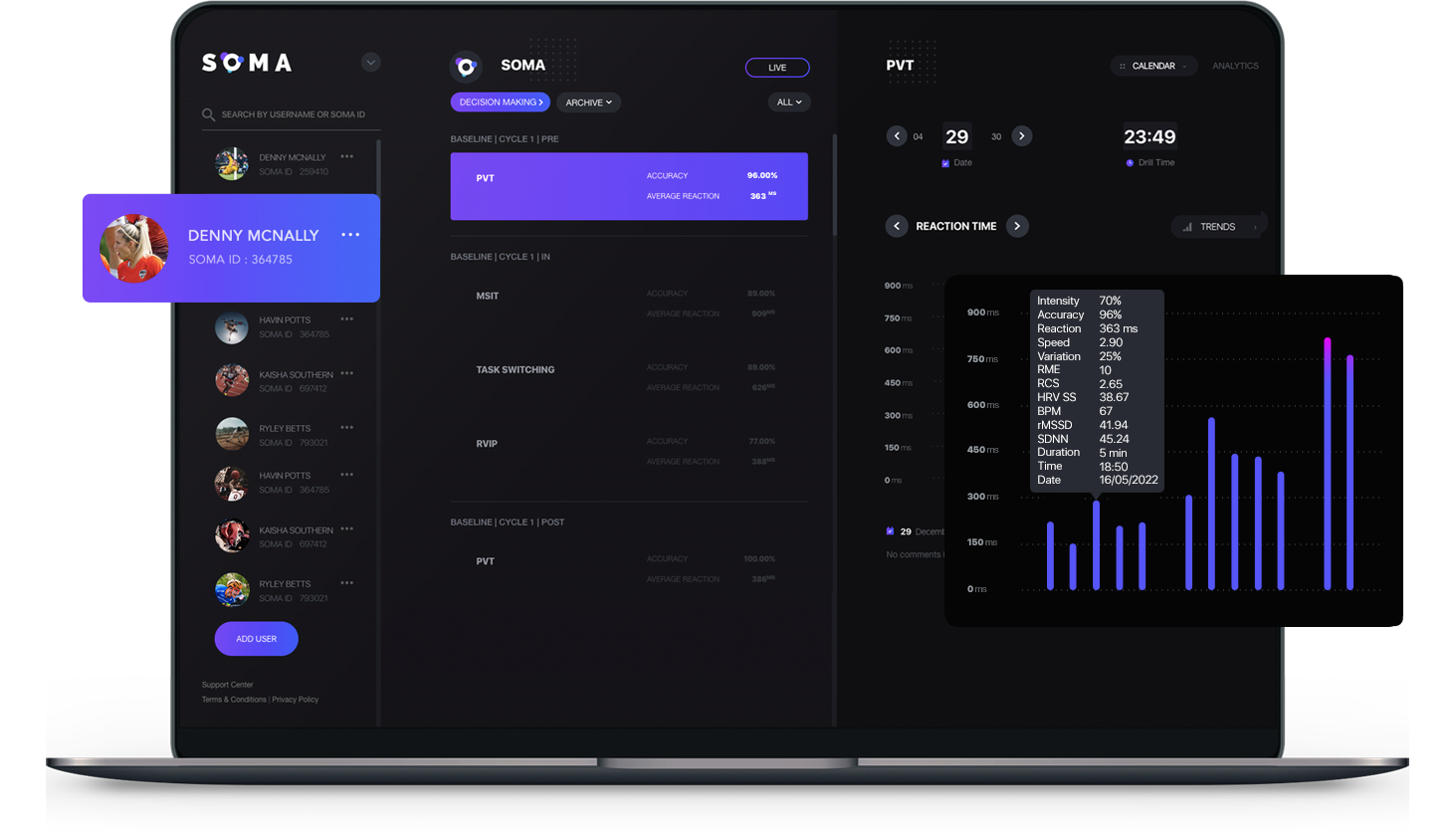 Soma Analytics allows you to customise an athlete's cognitive training plan by adapting,
Training Placement
Easily integrate cognitive training into your atheltes current training regime.
Task Duration
Alter the overall cognitive load on the athlete's brain.
Task Intensity
Increase the number of cognitive reps an athlete must perform over the duration of the cognitive task.
Apply Specialized Training Modes
Adapt cognitive tasks in a variety of ways,
Maintain heart rate in a particular heart rate zone during the task.
Have the task adapt based on performance.
Have the task adapt based on heart rate variability (HRV).
Extend the task duration based on errors.
Have the athlete respond to a secondary task stimulus.
Apply time pressure.
Soma Analytics allows you to monitor and manage your athlete's cognitive training remotely and gives access to specialized modes that allow you to create dynamic cognitive training plans.
🔗 Modes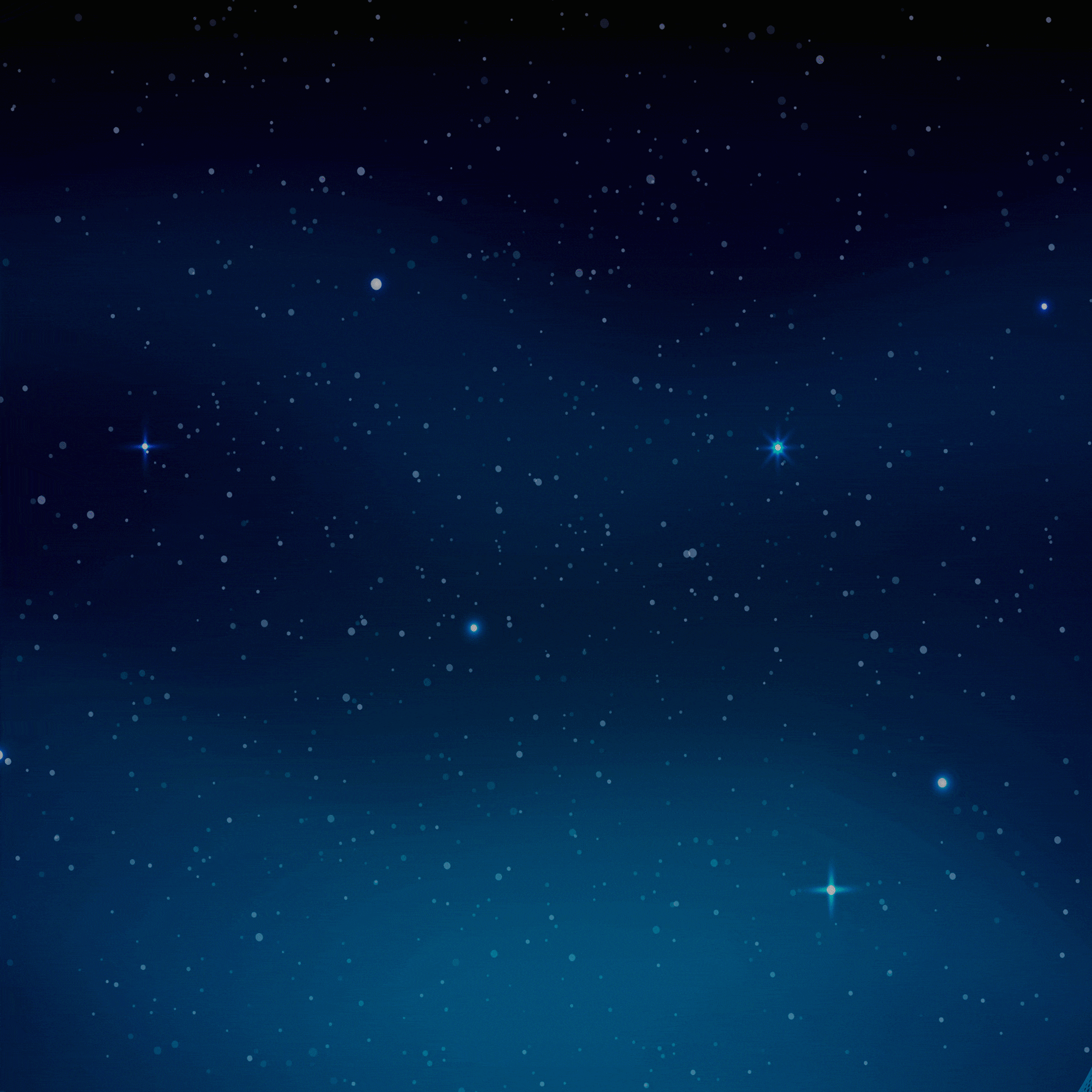 Integration
In order to keep athletes consistent on a cognitive training plan, they need to be able to easily integrate cognitive training into their current training regime and to be able to adapt the integration depending on their current season and training schedule.
Integrating cognitive training is not complicated. The most important thing to do is to ensure the integration method suits the athlete and makes it easy for them to complete the training time after time.
Soma Analytics allows coaches, teams, and clubs to customise cognitive training plans and send them directly to Soma NPT. This allows for easy integration into any training environment. Soma NPT can be used anytime, anywhere seamlessly. It can be used separately to any other training and it can also be integrated into physical training programs.
Cognitive Tasks
Soma NPT's large and diverse portfolio of tasks keeps things fresh in cognitive training. It is like running the same route every day, day in and day out. Simply running faster or wearing a weight vest may alter the load on the body but it still gets really boring. Cognitive tasks are challenging the brain but in order to keep the athlete engaged and interested in the training, there needs to be a variety of cognitive tasks and ways to vary the demands they place on the brain. Much like finding a new and challenging running route, the brain and the athlete enjoy varied challenges. Variation assists with overall compliance on a program. Which in turn, helps to maintain consistent improvements. Cognitive training can be made fun and rewarding if the battery of tasks creates the right psychological states – such as being interesting, effortful, novel, and adaptable.
🔗 Discover Soma NPTs Cognitive Tasks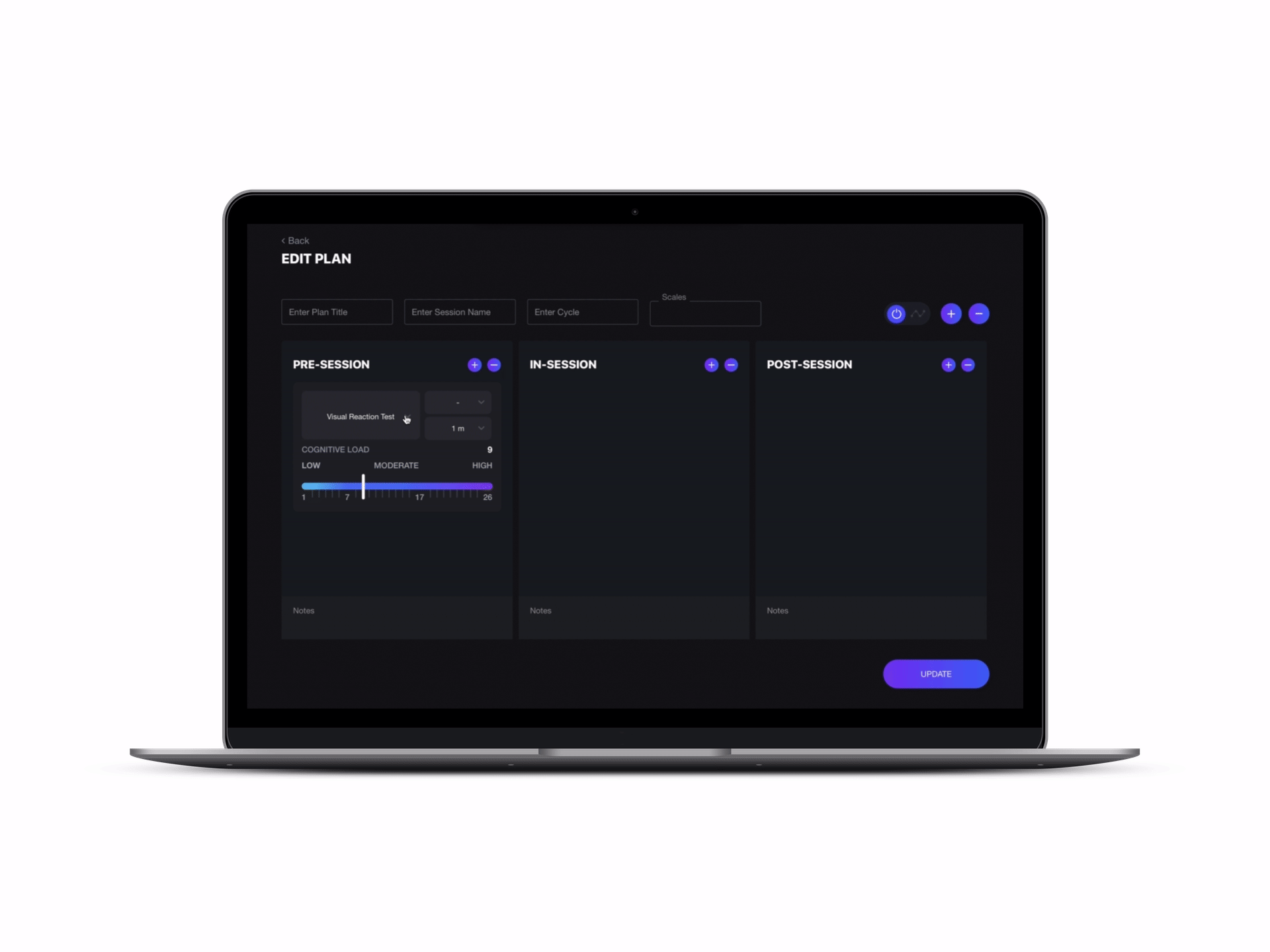 Calculating Multiple Cognitive Measures
When analyzing measures of cognitive task performance it is important to understand what you are looking at. By calculating multiple cognitive measures we are able to paint a complete picture of how the athlete is doing. This gives us plenty of information to evaluate and compare baseline test performance. For example, you will notice that not all measures improve between two sets of baseline tests. This is typical with most athletes. We believe that the more measures you have about an individual's performance, the more important it is to put these measures into context and understand what they mean as part of a bigger picture, namely, that athlete's learning journey. In sum, you can use the measures you collect to create mental performance and learning profiles of your athletes. Each athlete's cognitive performance can be represented by a triangular profile that reflects their speed, accuracy, and consistency.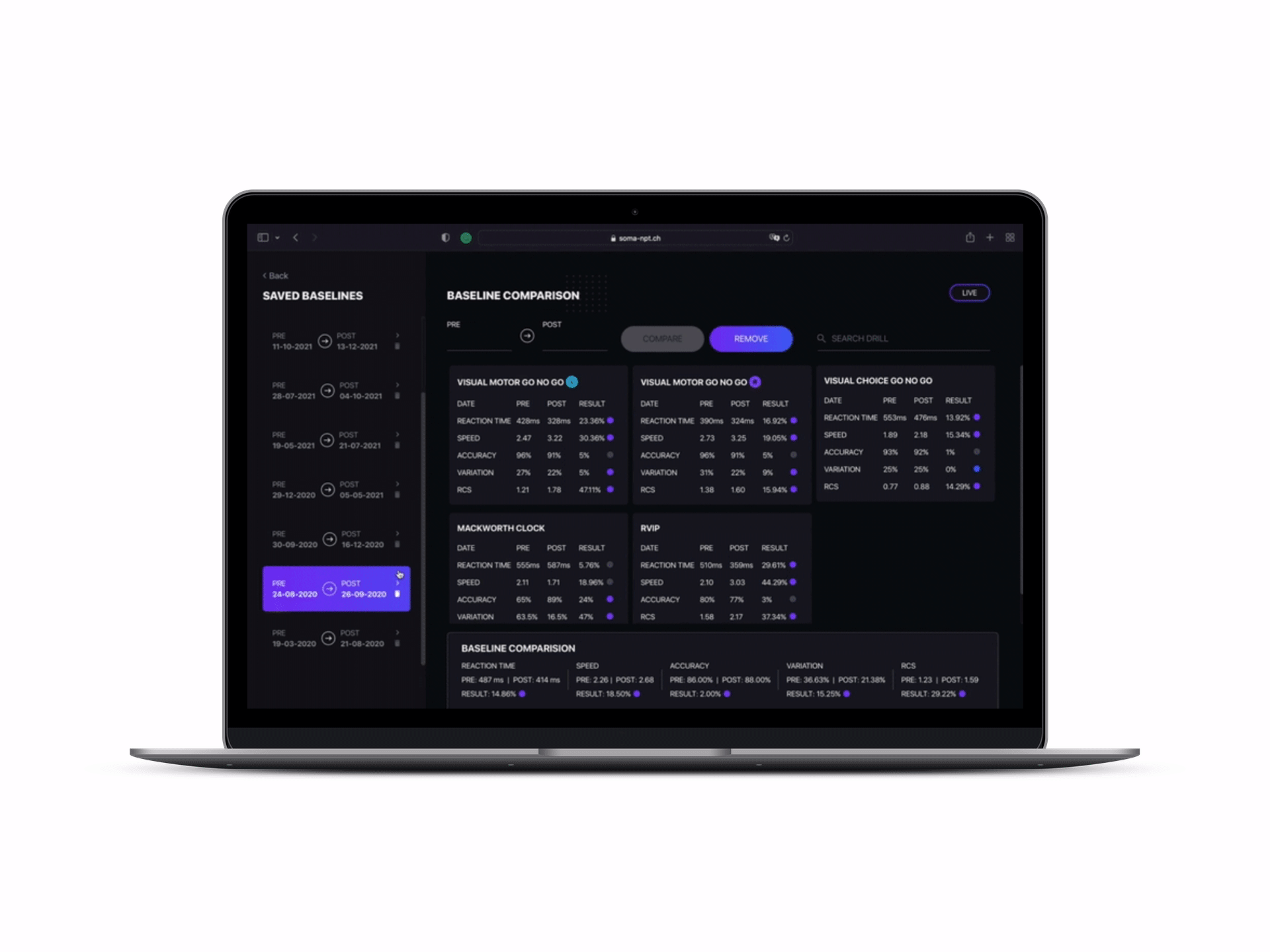 Minute on Minute (MoM) Data
Soma Analytics allows you to get Minute on Minute (MoM) data breakdowns that enable you to monitor an athlete's cognitive and physiological measures over the duration of a cognitive task and help you to identify an athlete's cognitive and physiological breaking points.

Minute on Minute (MoM) enables you to monitor an athletes,
Cognitive stress adaptation to the cognitive training plan
Consistency across each measurement
Cognitive breaking points
Physiological breaking points
🔗 Minute on Minute (MoM) Cognitive Measures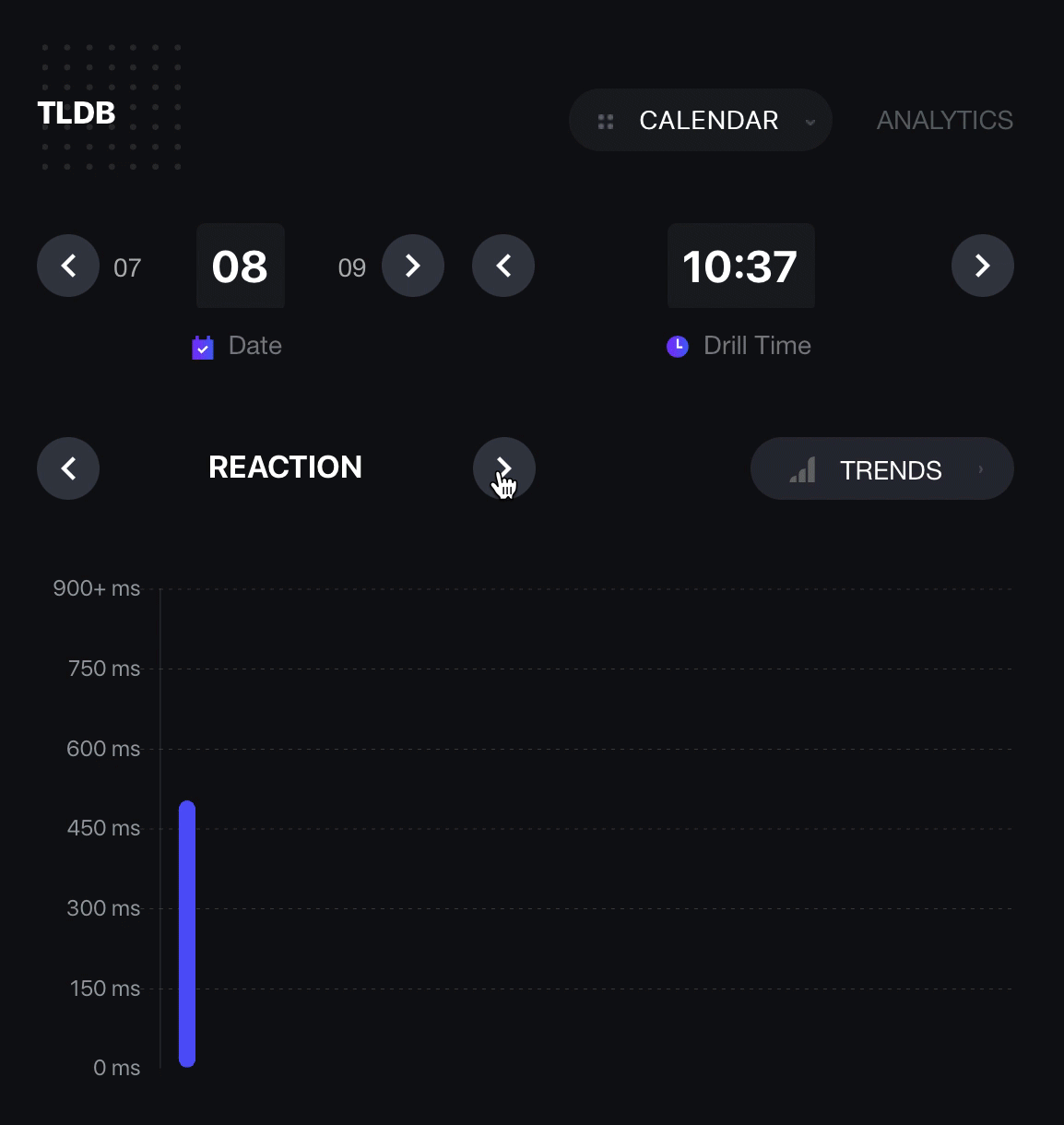 Data Trends
Soma Analytics allows coaches to trend cognitive measures per task.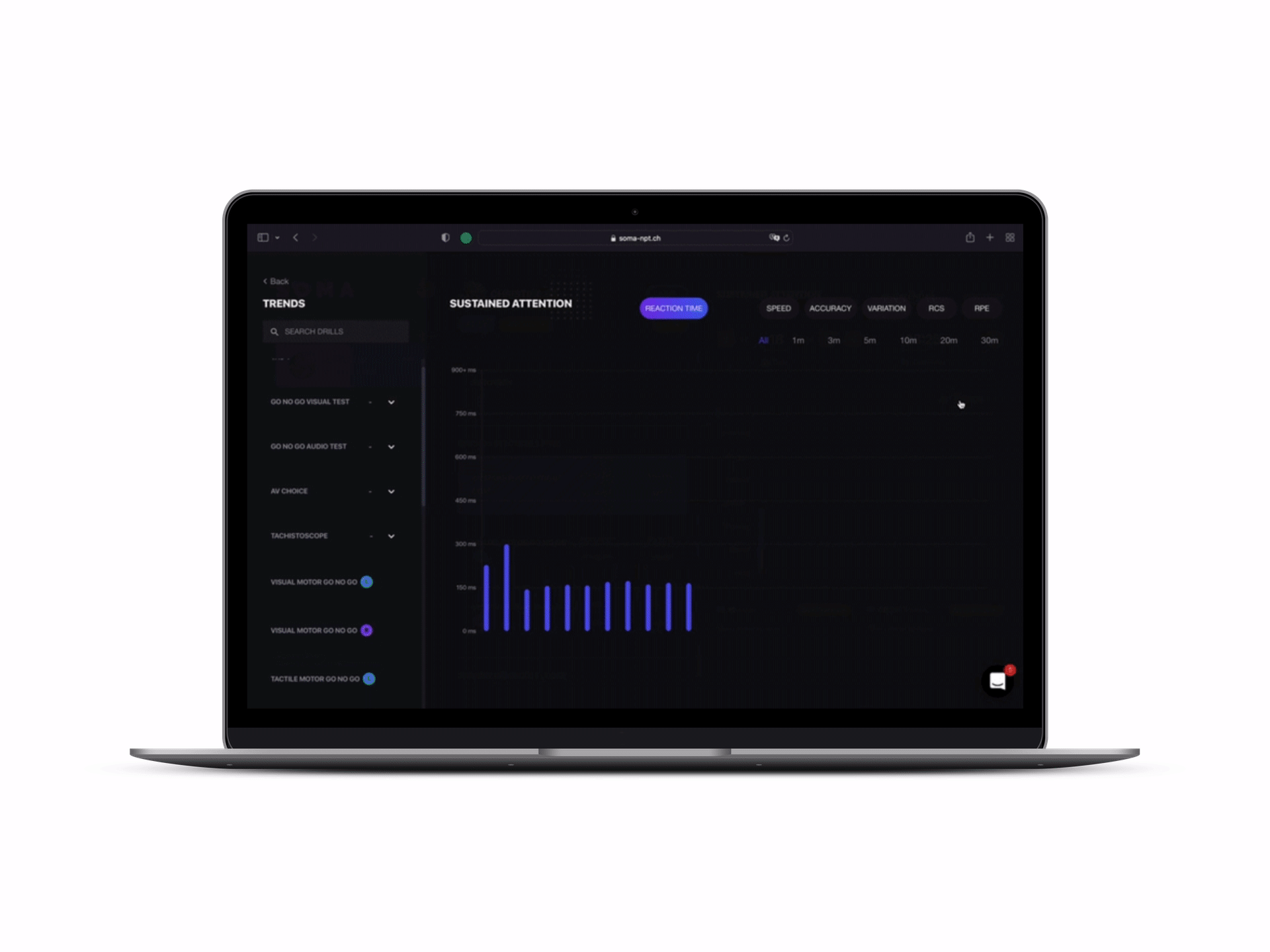 Percentile Breakdowns
Soma Profiling gives coaches a percentile breakdown of each measure categorised into average, elite and poor. These data insights are automatically sent to Soma NPT so atheltes can view their progress live over the course of the training plan.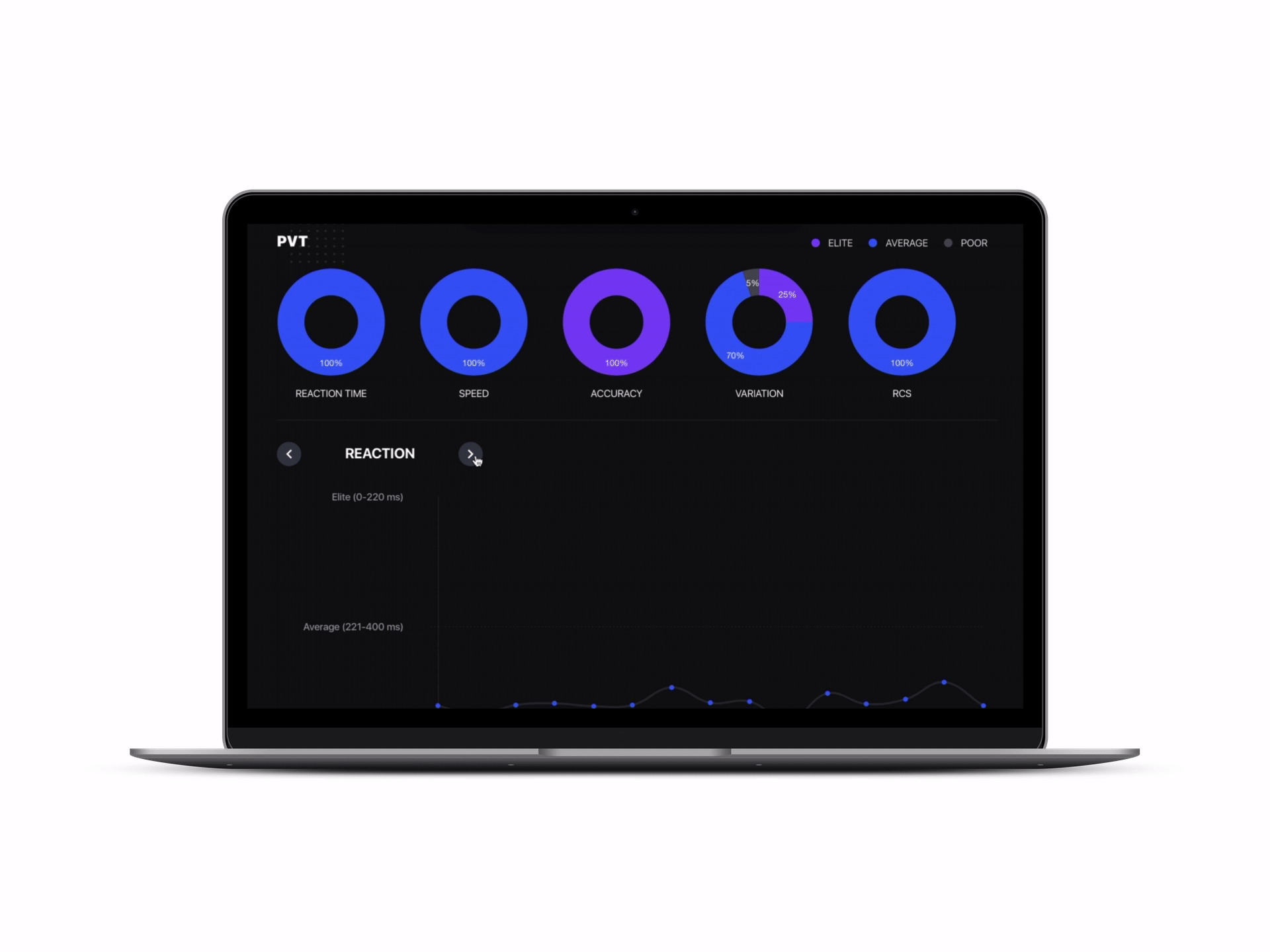 Cognitive Load
Load management and compliance to the cognitive training plan is important, Soma Analytics allows coaches to view what tasks were performed on each day and the total duration of the cognitive training session.
How will I know how to use Soma Analytics?
Soma Analytics is a big system and we have meticulously designed support systems and a learning centre to align with the technology so that you can learn everything from, how to adjust the intensity of a task, to how to build periodized cognitive training programs for professional athletes. We are the experts on cognitive training and hold nothing back when it comes to delivering all the information you need to be successful with your cognitive training.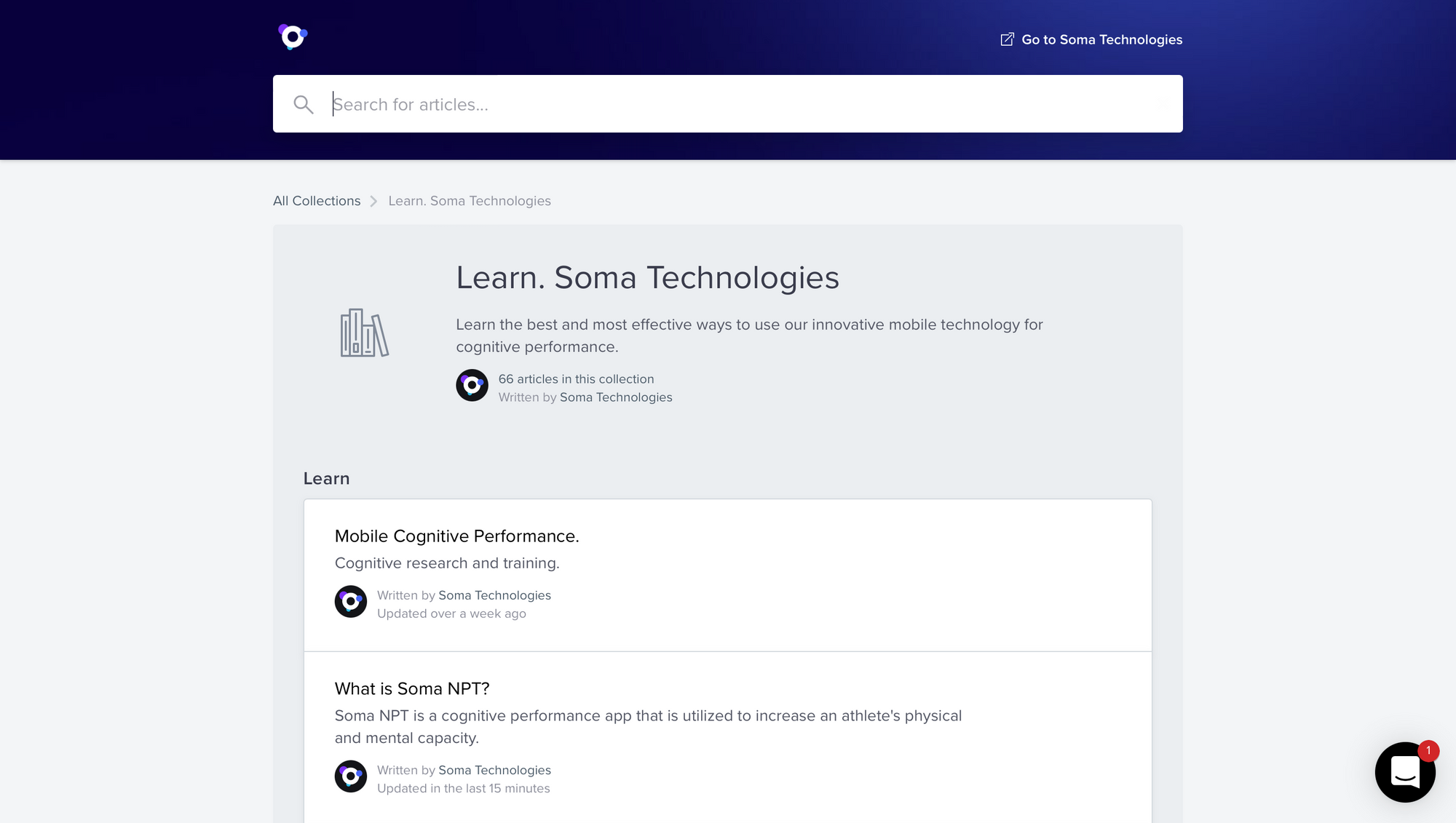 FAQs
Frequently Asked Questions.
Does Soma NPT run on iPad & iPhones?
Yes
What is the minimum iOS version?
iOS13
What is a Soma ID?
A SOMA ID is a 6 digit code that gives access to Soma NPT.
This means that athletes can log in to Soma NPT from different devices. They can use their own device for remote training (if required) or they can sign in to a device at your training facility. As long as they are logged in with their own SOMA ID, their data will link to Soma Analytics.
Can I purchase Soma ID access for my athletes?
Yes, you can purchase Soma IDs via Soma Analytics and your athlete only needs to enter their 6-digit ID to enter Soma NPT.
Can my athlete purchase their own Soma ID?
Yes, if you would prefer this method your athlete can purchase their own Soma ID via the App Store and give you their Soma ID code to monitor and create their cognitive training, otherwise, you can purchase Soma ID access for them via Soma Analytics.
What do I need to get started as a coach, club or team?
Soma Analytics
iPads or iPhones
Athletes can use their own device for remote training or they can sign in to a device at your training facility with their Soma ID.
What do I need to get started as an athlete?
Athletes only require Soma NPT.
Login with your Soma ID your coach, club or team has provided, or subscribe via iTunes
Do you offer a free trial?
​
We do not offer free trials for any of the Soma Technologies.
Do you offer phone support?
Soma Technologies offers 24/7 support via our chat system, which is always one click away. You'll always have a knowledgeable team member on the other end.
Keeping support solely online allows us to better help your inquiry in a speedy and more efficient manner, as our team is able to focus all of their energy on your inquiry with the fewest number of distractions and interruptions possible.
This in turn means that your inquiry is ultimately resolved faster. We believe it wouldn't be possible to provide the same effective assistance over the phone.
Here are a few additional reasons why:
A chat allows us to immediately pull information for your inquiry quickly from our online resources.
We're able to automatically gather technical information for research and troubleshooting purposes and link you directly to our online Help Center.
All support chats and conversations are stored for access at all times. This allows anyone on our team to easily pick up where another left off, therefore never having to ask you questions twice.
Get Started