How to Assess Your Athlete's Attentional Capacity.
The Detection Response Task (DRT) is a method used to objectively obtain values of the cognitive workload of a task.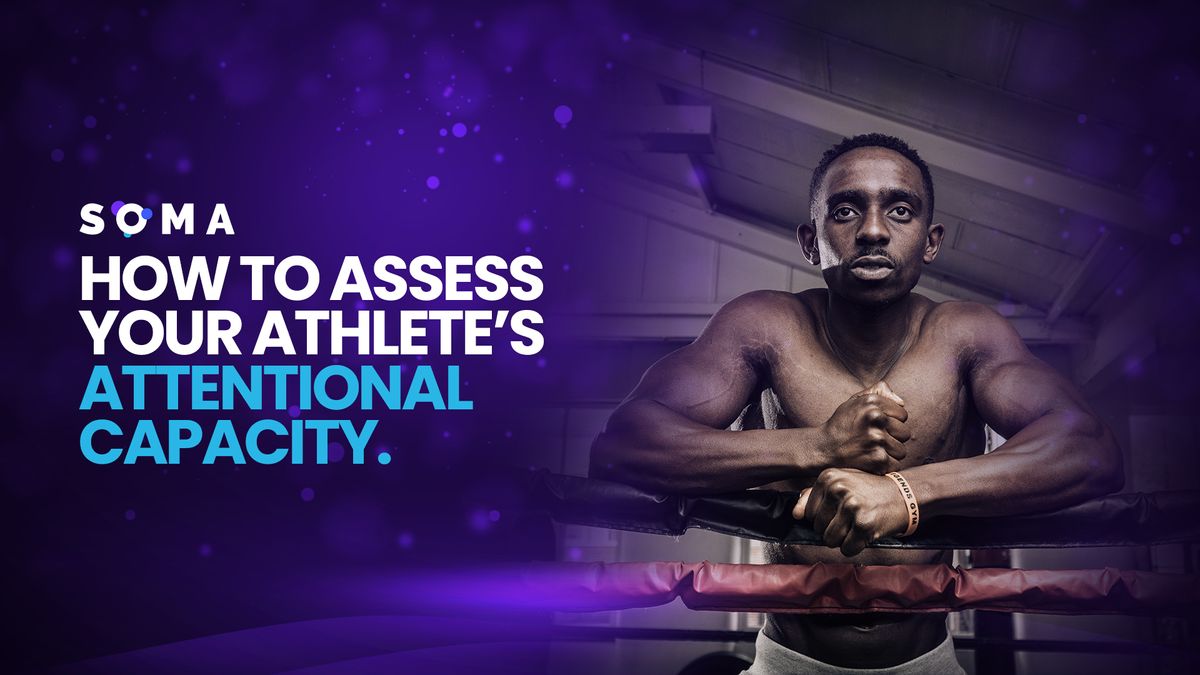 When creating a cognitive training plan it can be difficult to find which cognitive tasks create the most cognitive workload for your athletes. Making sure the cognitive workload is sufficient is an important aspect of program design and should not be overlooked. We need to ensure that we challenge our athletes with cognitive tasks that deplete their cognitive resources, such as attentional resources, in order to create adaptations.
If you find your athlete's attentional resources are not being consumed by the cognitive training it is time to vary cognitive load with specialized training modes.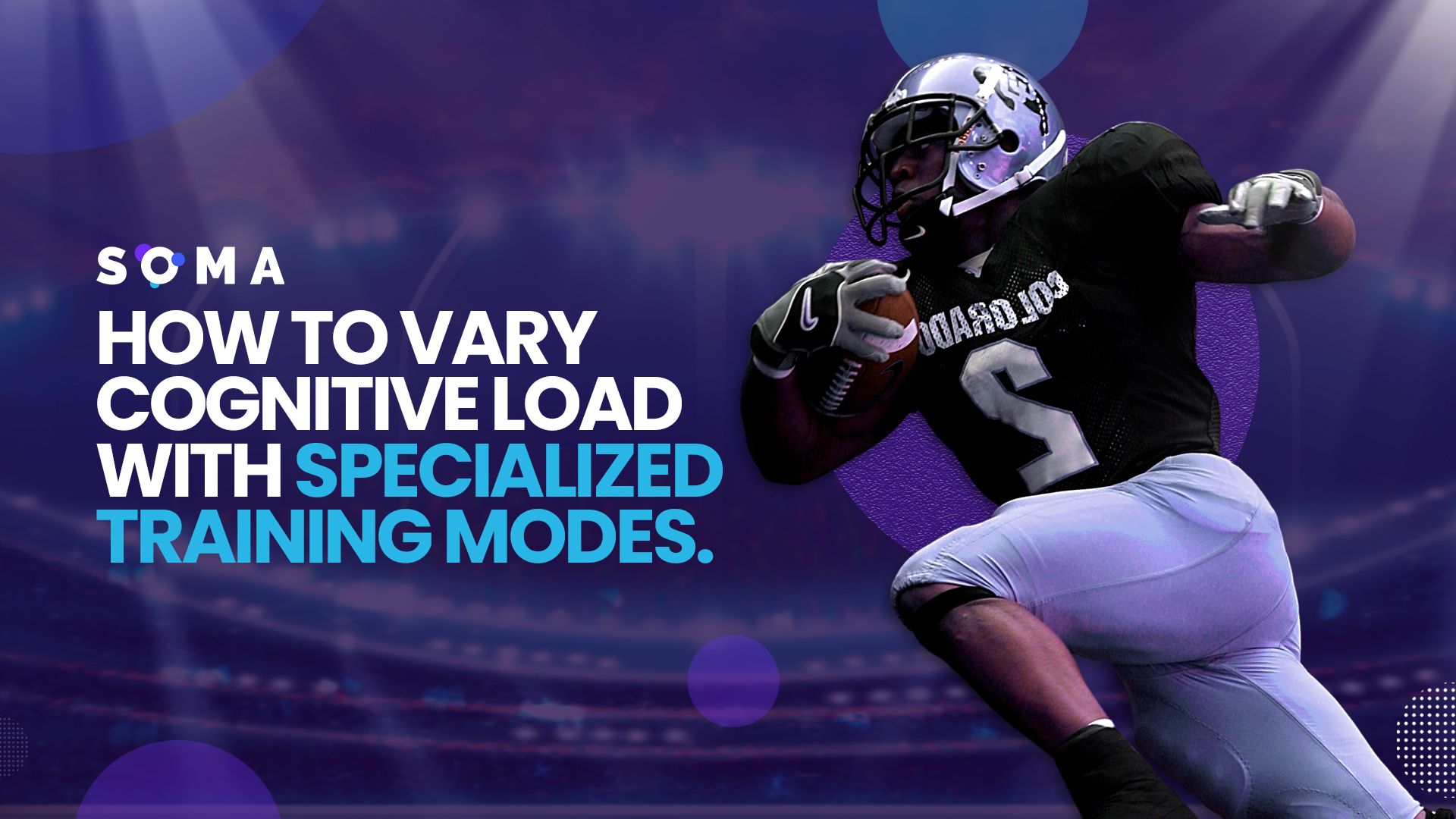 How do I assess my athlete's attentional resource capacity?
By applying the specialized mode Detection Response Task (DRT) to cognitive tasks.
What is Detection Response Task (DRT)?
The Detection Response Task (DRT) is a method used to objectively measure the cognitive workload of a task. The DRT is used as a part of the cognitive task set and performed at the same time as the task. The higher the DRT Reaction Time (RT), the higher the assumed cognitive workload resulting from the cognitive task. Measurements from DRT are sensitive to changes in the cognitive load, establishing the efficacy of DRT for cognitive tasks.
How does DRT mode work?
DRT mode presents a probe stimulus (i.e., secondary task demand) while the athlete is performing the primary task. The athlete is required to respond to this probe stimulus while concurrently responding to stimuli from the primary cognitive task.  Their ability to respond to this secondary stimulus allows you to objectively quantify the attentional workload imposed by the primary task.
The example below illustrates the adaptations over the course of a mesocycle as fewer attentional resources are being consumed by the cognitive task (showing that the athlete is adapting and learning to perform the task, which requires less of their limited attentional resources).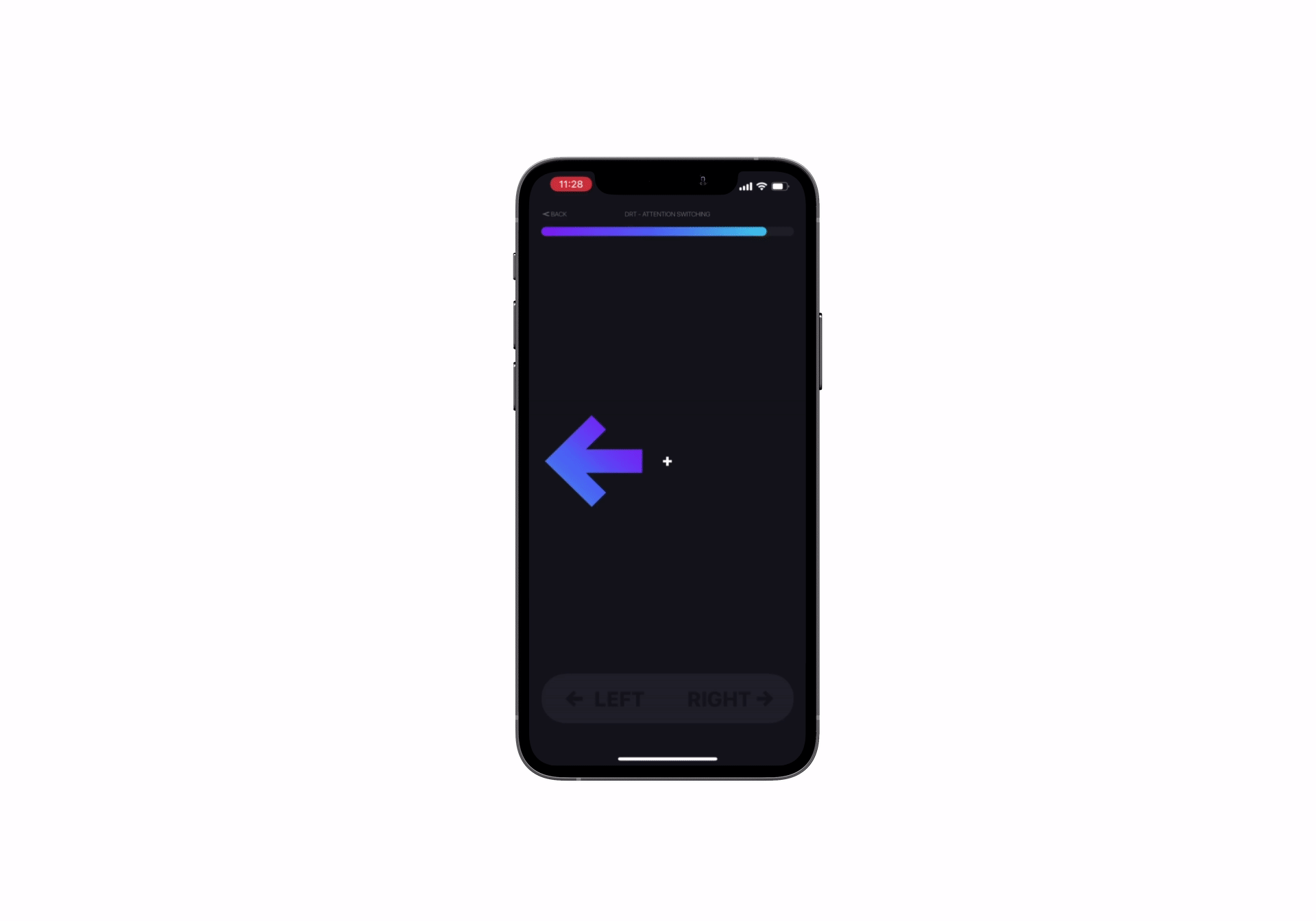 Session 13-10-2021
RT 630ms vs DRT 851ms
221ms gap RT-->DRT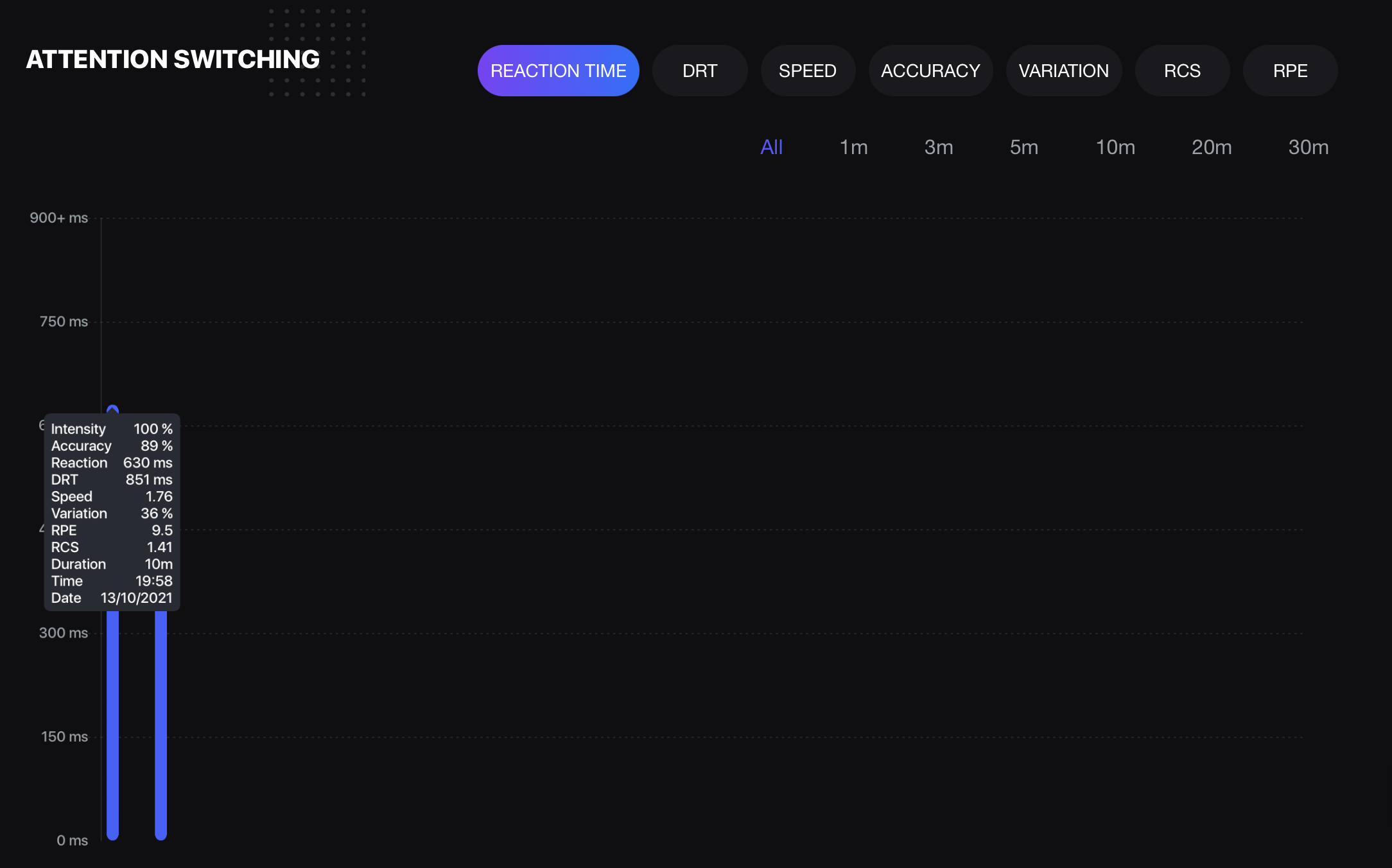 Session 11-11-2021
RT 463ms vs DRT 534ms
71ms gap RT-->DRT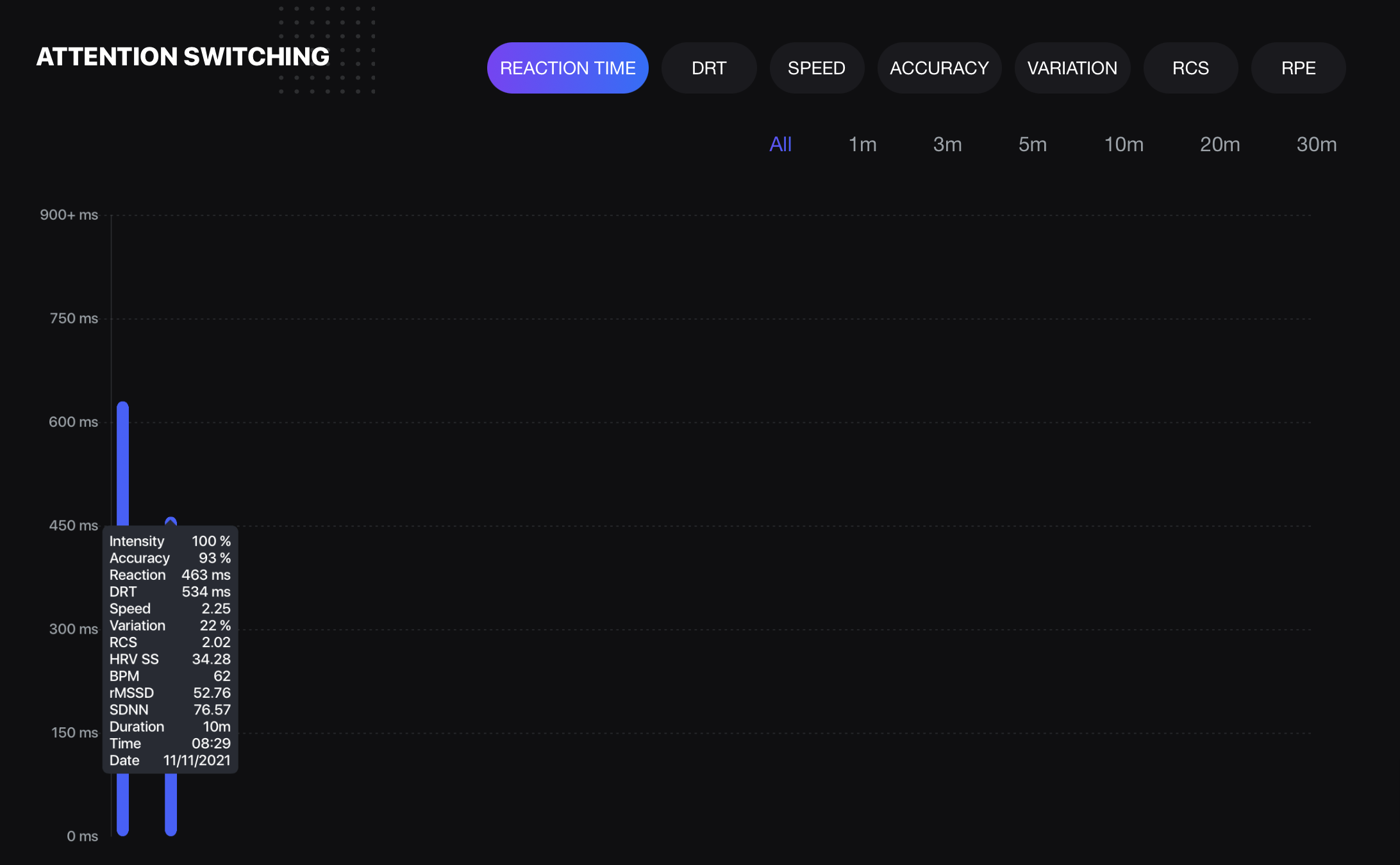 To Summarise,
DRT is a great tool to get deeper insights into how your athletes are adapting to specific cognitive tasks. These insights can be used to adjust your athlete's cognitive training program. While DRT mode is not a magic bullet to success it provides the empirical basis to help guide your training plans and programs.
The more attentional resources that are being consumed by the primary cognitive task will be associated with a slower DRT Reaction Time (RT)
The less attentional resources that are being consumed by the cognitive task will be associated with a faster DRT Reaction Time (RT)
Learn More
---